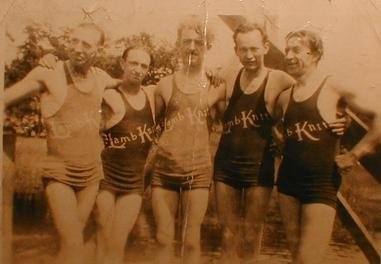 In 1926 famed magician/illusionist Harry Blackstone arrived in Colon with his wife Inez. It actually happened by accident as Inez was driving through town and found a small plot of land on Sturgeon Lake. She instantly fell in love with it and told Harry this would be a good place to settle down for the summer month. It was here that the entire Blackstone crew would repair props and prepare the show for the upcoming tour. In those days there air conditioning wasn't available in theaters so they would go 'dark' until autumn. Colon was half way distance between Detroit and Chicago so it was perfect for him to head out in either direction when the show resumed it's annual tour.

Every year just before they would head out on the road Harry and the troupe would have a 'dress rehearsal' in the old Hill Opera House in Colon and invited townspeople to come see the performance. In 1927 Harry met an old friend, Australian Magician Percy Abbott at an International Brotherhood of Magician's Convention in Ohio and invited Percy to Colon for some relaxation and fishing. The two men hit upon the idea of opening a magic company - The Blackstone Magic Company. After an infamous falling out, Harry and Percy went their separate ways.

Harry continued performing and Percy stayed in Colon and opened what was then the largest magic company in the world.
Our village is All About Magic oriented for sure -

For starters - The high school mascot "Magi' is a Rabbit In A Hat
We have over 30 magicians buried in our local cemetery -more than any other in the world
The streets are lined with banners celebrating our rich history
The sidewalks are filled with Stars of Magic!
Want to know more about Colon?

Read our

FREE local online newspaper

for all of the latest happenings -
COMPLETE HISTORY PAGE ON COLON HERE -

Go to this Link to find out other places of interest - Magic Capital Of The World
We have a separate website dedicated to the historical aspect of Colon along with some very rare photographs - Access the FREE site HERE & won't you come see us?