FOR IMMEDIATE RELEASE
WORLD CHAMPIONSHIP ESCAPE ARTIST COMPETITION
Forty-two years ago the last World Championship of Escape Artists took place in Las Vegas, Nevada. The winner of that first championship was Charlie Myrick. There has not been another competition since. NOW after 42 years in June of 2019 the World Championship Escape Competition comes to Colon, Michigan - THE Magic Capital Of The World! Hosted by The FAB Magic Company and Charlie Myrick, competition will be open to all practicing escape artists of all ages. To be considered for the championship all competitors must submit a bio and audition DVD of their act and performance history and postmarked no later than August 31st, 2018. All submissions need to be sent to:
Escape Competition, c/o FAB Magic Company, PO Box 483, Colon, MI 49040.
After a review of all submissions all competitors selected will be notified by October 31st, 2018 with notice and competition rules and regulations. There is NO entrance FEE.
Cash Prizes will Be Awarded!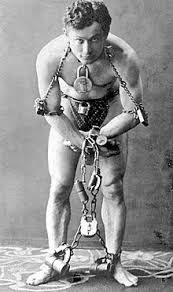 So....DO Y O U Have What It Takes to Be the Next World Champion Escape Artist?
Now boasting Over 20,000 Items IN STOCK!
We have the largest inventory of Magic
anywhere
!
Don't look any further FAB is sure to have it!
Come See How Magic Is Made Everyday!
'Last night performed at the Mud Hens baseball game for Harry Potter night. I did the 'SPOOKER'

Was that ever great!

Thanks Rick for putting out a great piece of magic.' Andrew Martin Portala



"Jeff Nalazek's Ambitious Card From Hell

is so EASY to do, yet extremely

POWERFUL

. No sleights to learn, zero unnatural movements… Jeff has worked hard to put all of the focus where it should be...

ON THE ENTERTAINMENT

!
This effect will lead spectators down a path of laughter and enjoyment followed by a sharp left turn at the end. It is not a sucker trick per say, but a pure piece of entertainment that will easily make its way into my repertoire.
I will also recommend Ambitious Card From Hell to anyone starting out in magic, and to friends who have been performing professionally for years"
- Cameron Zvara, Comedy Magician & Entertainer
"I have always been a fan of the Zombie ball and it took me many years to get it to the level where I am now, but that has a lot more to do with the fact that the Zombie Ball is an easy effect to do badly. If I had had the FAB Dream Zombie 20 years ago when I first started, learning would have been a little easier. The outfit itself will not make you a better performer of the effect, but it is certainly much more stable as far as the gimmick is concerned. The base is an ingenious idea and if I ever decide to use a base as a starting point for my handling, this will be the one I will use.
The gimmick itself is well made and fits into the ball perfectly, but its design (shape) did not suit my taste so I had to alter it, but it ended up being just a bit too short. That only applies to me - it will likely work for most routines. That brings me to the ball itself. This thing is nice and light. It will stand up to being dropped if it ever is, but it hangs onto the gimmick very securely, thanks to a little innovative design update made by Rick. I ordered the chrome gold ball and while it is not a 'gold' as I would like it to look, it is very nice. The surface is not completely smooth close up (a few marks here and there) and also close-up the seam is visible. Neither of those things will be noticed from a foot away or more. One thing I cannot use this ball for is any sort of bare-handed (gimmickless) Zombie sequences, and it is a little disappointing. It is only because the hole is too small for my thumb.
The foulard that comes with the set is perfect in size and weight. The gimmick is 13 inches and the foulard is 26 inches by 26 inches. It drapes over the ball perfectly. When you first start using this foulard and are used to using other makes, it may take some getting used to as far as it "weighing down" the ball, but that will be easily overcome with practice.
Overall this is an excellent set that is well made, especially for the price. It is perfect for both beginners and experts alike. If you ever want a larger ball or a two-finger gimmick, those are also available separately.Very highly recommend!" Dr. P - Michigan
Fabien Declercq,France
'Two Thumbs Up! Simply put the best and fastest shipping!'
Bill Reader, Fort Wayne,IN
"I love the Items just received. Thanks Rick!" - Art Bausman
"Nice Props & Good Kid Show Item! (Flippity Flop Rabbits)" - Ray Lucas
"My boys were 1st time attenders to last year's Magic Camp and thoroughly enjoyed both days. They were entertained, learned quite a bit and came home with an even stronger passion to share magic with others. 2018 FAB Magic Camp is a must!" -
Kristy Steckbauer, Union City,MI
ALWAYS SOMETHING NEW UNDER THE SUN AT FAB MAGIC!